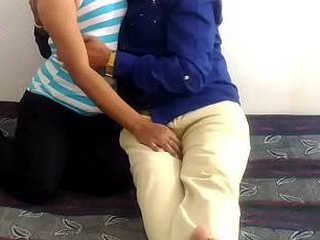 Hi all of you!! I here am Mrs. Kamini Bhatt. Don't be surprised but I'm 37 years old and stay in Mumbai. My husband is a rich businessman having not enough time for me. Actually he isn't interested in me coz he down there. You see, I have a big cunt. He just can't satisfy me with his dick. So he just blames me. But, I don't care. I have stopped having sex with him. But my sex life hasn't stopped. I have my own means. This is a true story, believe it or not. Let me warn you. All those who are disgusted by sex with animals, do not read this. This happened a few years back when we had gone to the States on a holiday to visit family friends. They stayed in Texas, actually they owned a ranch.

Now, Smita, my husband's friend's wife was a good friend of mine too. I confide in her a lot and she knows about all my sexual escapades. Now, through all my sexual incidences with different men, none really could satisfy me and bring me to a fuckin' orgasm. My best partner was my 11 inch vibrator. I needed something better than that. The next morning, just roaming around the farm with Smita, my eyes settled on a big, white stallion servicing a mare. The horse's massive dick going in and out of the mare's cunt sure got me excited. Seeing the mischievous look in my eyes, Smita could guess what was going on in my mind. Well, lucky for me she thought that the idea was great and decided to join me. We just had to wait for the right time. We soon got it. The men had to go and attend a seminar and they decided to leave us behind (as if we wanted to go). These people left early morning and we waited for the maids of the house to involve themselves with the daily chores.
We left the house on pretext of riding the horses. We took two stallions: I rode Whisper, the dream horse and Smita rode another brown horse called Lightfoot. We rode till the farthest end of the meadow where there stood a barn-house. It was far away not to be seen from the house. We went inside the barn house and closed it from inside. We tied the horses to the stumps. Lightfoot was kept a bit far away so that he wouldn't interfere with our stunt. Now, Whisper needed to be aroused in the right way so that he could be ready for the act. I started stripping in front of him. So did Smita. Off came our tops and skirts. There we stood in our under-clothes. I went close to Whisper and put his nose between my breasts so that he could smell my fragrance. I unhooked my bra and let my breasts go free in front of him. Smita took a jar of water and started pouring it over my cleavage. Whisper licked the flowing water. His tongue wandered all over my breasts. The sensation of his rough tongue on my nipples made them hard like marbles. Oh, what a feeling!! I wanted Smita to experience it too and we repeated the same thing with her.
I pulled off Smita's panties. She tried to push Whisper's face towards her cunt. It was hard but she achieved it after a little while. Now, I could see Whisper's dick getting hard. The smell of Smita's wonderful cunt was doing it's job. The horse gave it a few wet slurps of his tongue. It took some time of caressing and coaxing to get Whisper's dick to it's royal hard position at it's fullest length. We had to find out a way to get it into our pussies. We dragged a small bench under Whisper's stomach. It was just about the right height. I took Whisper's dick in my hand and gave it a slight rub. By the way, it was 11″ in length and 3″ in girth. I had to use both my hands to engulf it. Smita bent down and gave it a lick with her tongue. Whisper started neighing. I was sure he was also feeling good. I allowed Smita to go first. I would say I was a bit selfish.
You see, I wanted him to cum in me. So I wanted to go last. I bent down and started licking Smita's pussy. Had to get her well lubricated for the penetration. I made her cum with my tongue and then inserted my fingers in her cunt. I spread her juices nicely around and then told her to get ready. She got on the bench and raised her cunt so that her pussy lips just touched the head of Whisper's dick. I had to assist Whisper in getting it in. Smita forced open her lips with her fingers while I rubbed the tool and tried getting it in. Whisper started responding and the tool glided in with some effort. Smita gasped by the size of it. It sure was tearing her cunt. After some time, Smita got accustomed to the rhythmic up and down motion. It was slow at first but then she picked up speed. I also had to do something and went for Smita's breast. I flicked my tongue over her nipple. Moans escaped Smita's mouth as she became more and more ecstatic with Whisper pumping into her. The Whisper's dick and my tongue got Smita cumming in minutes. Whisper also by now had gotten into the act and co-operating fully. Obviously, it was his first time to fuck two sex-hungry females lusting for his massive dick. After cumming once more, Smita decided to let me have the pleasure. Oh, how I was waiting for this moment. Smita lubricated my pussy with her own juices. I got on the bench and guided Whisper's dick in my cunt. Wow, was it big!!
I guess, I had met my match. I started my up and down motion on his dick. Now, Smita started licking my breasts. I couldn't believe it. I was really fucking a horse. My first orgasm ripped through me and I cummed screaming out with pleasure. Now I had to make him cum. I wanted him to spurt his jism inside me. I increased my speed. He soon reached his hilt. I came to know coz he too increased his speed of pumping into me. Oh, how much I wanted his cum inside me. Not long, not long. Whisper neighed out loudly and started cumming. Load after load of hot cum were being let go in my cunt. I also cummed at the same time. My cunt was big but not so big enough to hold a horse's cum. It overflowed my cunt and ran onto my thighs. Smita was masturbating and she too couldn't hold on for long. We both were screaming out and Whisper too was neighing. Luckily, we were far off from home not to attract attention.
After some time, whisper's limp cock slipped out of my wet cunt. I was exhausted. I got down from the bench and joined Smita on the ground.
Ummmmmm, we were thoroughly satisfied. Thanks to Whisper. I got up and kissed him. it was certainly a great experience. We dressed and rode back home. Our husbands came home late at night. They had no idea about our episode. I returned back to India and resumed my life. This secret was a secret till now. Now, it is out to the public. I don't care if my husband reads it too. I want him to realise that I can do without his dick.
Thank you all very much for reading my story. I really appreciate your feedback. For more hot sex stories subscribe to our website. You can also submit your stories on our archives of sexy stories online.