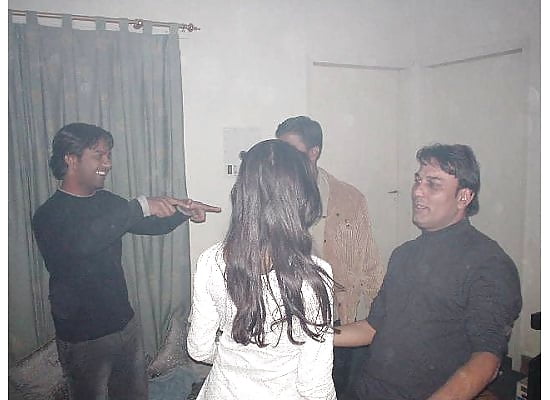 I closed my eyes and begged for more while her Neha's hot wet tongue tickled my butthole and flicked over my clit. I was kneeling on a stool with my butt thrust out while she was doing wonderful things to me. My body was quivering with pleasure as her expert tongue made me moan and groan. The guys were watching us, stroking their cocks, waiting for their chance at action.

Hi guys, I'm Sohana, a long time reader of Dirty Indian Stories, sharing my story. I live by myself in a small rented flat and my neighbours are three young college boys. I occasionally exchange pleasantries with them when I see them, and one of them has a hot girlfriend Neha who comes over sometimes during weekends. The story is of a Friday night when I came back from work tired and wanted to sleep.
There was loud music blaring from the guys' door. I waited as patiently as I could and then went and rang their doorbell. No one answered. I rang again. Akhil, one of the guys, opened the door a little, shirtless and in his shorts. I asked him to turn down the volume. He said yes and was just closing the door when I noticed his HUGE boner through his shorts.
And then I heard a soft female moan come from inside. I pushed the door open against Akhil and was dumbstruck for a second. Neha was lying on the mattress, naked, eyes closed, legs spread. Vicky, her boyfriend, had his head buried in her pussy. Rahul, the other guy, was sucking on her boobs. So they were having a gangbang!
What I did next was unbelievable even for me. My heart was whopping wildly as I said "I want to join you right now." Akhil was flustered. He recovered and said "Sure!" I went back to my room, locked the door and came back to join these guys. Looks like they had just gotten started a little while back. Vicky was still buried in Neha's pussy. Akhil and Rahul were looking at me.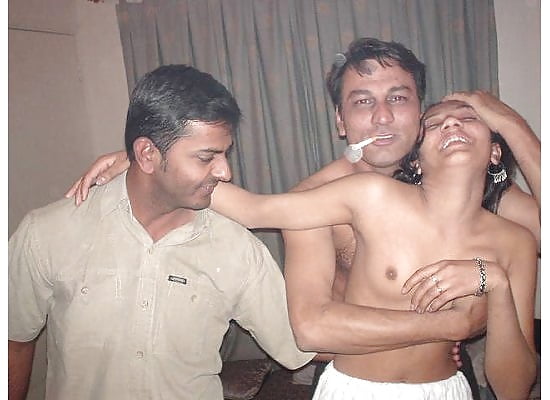 I hesitated for a second and then shed all inhibitions. I was going to be a bitch and these guys were going to fuck me and fuck me hard till I was satisfied. I have watched enough porn and masturbated enough, now I wanted a real cock. Three of them was a bonus! I pulled my tshirt over my head, exposing my boobs, pulled down my skirt. Stood naked while the four of them gawped at me. And then I pounced on Akhil, dragging him to the mattress below.
I turned into a tigress, kissing him, gripping him, holding him, squeezing his cock. He was a little stunned at first and then he got into action, holding me hard, flipping me over and going to work on me. He sucked my boobs, squeezed my nipples, and then suddenly Neha came over. Neha was beginning to dominate me and we put on an awesome girl-on-girl show for the boys.
Neha was an expert. She knew exactly where to tickle, touch and squeeze. Her soft fingers worked their magic on me and I was squirming in pleasure. The guys were staring at us open-mouthed, furiously jerking their cocks. I began to leak juices and Neha lapped them all up greedily.
We got into the 69 position and I began to shove my tongue into her, and she was shivering wildly. So this was how good it felt. I closed my eyes and let her tongue work its magic on me while I did my best to pleasure her.
The guys were feeling neglected. They came, pulled us apart and showed off their proud erect dicks. Smooth, average length and girth, brown. Neha said "Let me show you how to suck cock" and closed her mouth around Vicky's dick and balls. Wow, this girl was en expert. I beckoned Akhil to come closer, and took his wild raging cock in my mouth.
The taste was weird but I imagined sucking an ice cream cone. After a good sucking, I sucked off Rahul and then Vicky too. It was now time for the actual fucking. Vicky rolled on a condom, mounted Neha and began slamming her without any further foreplay. She matched his slams with upward hip movements and loud moans. Akhil and Rahul however took it slow with me.
Akhil spread my legs and went to work on my crotch with his mouth, while Rahul lay nest to me and massaged my breasts. He started to kiss me deeply and I kissed him back. The feeling was heavenly, a tongue in my pussy and a mouth over my nipples. I started to moan and whimper. The guys loved it and increased their efforts on me.
After what seemed like a long foreplay session, Akhil rolled a condom onto his proud cock, positioned himself at the entrance of my pussy, and very slowly pushed it in. It hurt. I gripped him hard and waited for the pain to subside. It went away slowly, and I smiled at him to encourage him to push further. He did, slowly going all the way inside me and stopped.
He then began to kiss me and caress me. He did not thrust because he knew I'd be in pain. Vicky, meanwhile had finished one session with Neha and now Rahul was fucking her doggy style. That was a very erotic sight. Akhil began to talk dirty to me and slowly rotated his hips in circular motion.
His cock touched the deep walls of my hole and I could feel the sensations of the condom dots, they were very pleasurable indeed. Akhil did thrust a little eventually, and grunted an "ohhh" before orgasming. I could feel his cock twitch half a dozen times inside me and his cum fill up the condom tip.
Akhil slowly pulled out of me and I paused to catch my breath. I saw Neha getting fucked in the ass now by Vicky, Wow, this girl had some stamina and Vicky was fucking her like a wild bull. I was hoping for an ass fuck myself but was scared of the pain. Neha didn't seem to have any though, she was enjoying it. Rahul was kneeling in front of her and she was sucking his cock.
He noticed that I was looking at him. He freed his cock, came over to me and made me stand up. He kissed me while squeezing my butt and I kissed him back with my arms around his neck. I was about to discover that Rahul was a sensational fucker.
Rahul lifted me. I wrapped my legs around him. He inserted his cock in me, and began to lift me up and down and fuck me. There was a mixture of pleasure and pain and then the pain slowly disappeared, replaced by extreme lust. He began to impale me on his cock even harder and I gripped him for dear life. I was enjoying myself to the fullest.
Akhil came, stood behind me, tried to insert his cock in my ass while I was in the air, but gave up and went back. After sometime, Rahul stopped and pulled out of me. He laid me on the mattress and spread my legs wide apart, pointing at the ceiling. He licked my pussy. He put on a fresh condom and began to fuck me again, while also squeezing my nipples. I took a glance at Neha.
She had Vicky's cock in her ass and Akhil's cock in her pussy and she was having a good time with double penetration. I wanted that too. But first Rahul had to finish with me. Rahul had a lot of control. He was making short thrusts inside me whereas I wanted him to go deeper. He would not. I began to arch my hips up to get his cock deeper inside me but he pushed me down again.
He raised my arms over my head, making me feel vulnerable, adding to the feeling I already had with my legs spread apart. He began to increase his stroke length ever so slowly. Yes! I began to beg him to fuck me harder. I was being the bitch I wanted to be.
I could feel the rumblings of an orgasm approaching within me. A slight tingle that grew at first and then went rising. Rahul seemed to know so he began to fuck me with even longer strokes. The sensation inside me rose and rose with each stroke till it reached a high crescendo. I screamed out loud with my orgasm and a flood of juices, clenching my pussy around Rahul's cock.
I opened my eyes, saw his face. His head was high, eyes closed and with a loud grunt, he orgasmed, shooting his hot load inside the condom. I could feel each and every twitch of his tool. As he pulled out of me, I gasped. I was panting. My body was feeling light. This was a hundred times better than masturbation. The night was not over yet, there was more!
We took a break; Neha came over to me and hugged and caressed me. My throat was parched and my pussy was feeling somewhat sore. After half an hour the fucking started again and this time I had become bold enough. I demanded a double penetration. Vicky said that he would fuck my teeny virgin ass first and then we would go ahead with the DP.
Vicky lubed my ass and loosened it with his magical fingers. I was still a little nervous having witnessed his animalistic fucking of Neha but I didn't show it. Vicky rolled on a condom, I knelt in doggy style and he slowly entered my ass, millimetre by millimetre. An odd mixture of pain, shivers and pleasure shot up my ass as the dots of the condom rubbed against the nerve endings of my butthole.
I fought furiously against the clench reflex. Vicky stroked inside me 10 times and withdrew. My ass was tingling. Now I demanded the DP and I asked the guys to do it without condoms. I lay on my side. Rahul lubed his cock and ever-so-slowly entered my ass. His hot raging cock made me fill warm and full.
After I had adjusted to him, Akhil came in front of me and pushed his cock inside my pussy. It was an altogether different feeling. Two cocks in me, warm, slowly stroking in and out, gently. I was beginning to enjoy it slowly. Vicky was watching. I beckoned him to come close and I took his cock in my mouth. Boy, I had all three holes filled and it wasn't going to get any better than this.
I was in heaven with pleasure. These guys were so gentle and they made me feel like the centre of attention. I heard Neha's squeals, she was fingering herself while looking at us. I tried to concentrate on all three cocks inside me, trying to feel their sensations individually. Since the fucking was slow and measured, it was far more enjoyable.
Neglected Neha wriggled in front of me somehow and began to suck my breasts. So now there was no part of me that wasn't being pleasured. I felt the rumblings of another orgasm approach. I just surrendered myself to the feeling, letting it wash over me, as I orgasmed again.
Rahul was the first to come inside me, filling my ass with his cum.
Vicky shot his salty cum into my mouth seconds later, of which I swallowed most of, some of it dribbling outside my mouth. The two of them pulled out of me, but Akhil didn't. He stood up, lifted me and while standing, went on thrusting inside me for 5 more minutes before he orgasmed. Rahul managed to insert his semi-erect dick in my ass as I was hanging in the air, but couldn't hold it there for long due to Akhil's jerks.
The cum of three guys was flowing out of my three holes. We were all gasping and tired for breath. The guys went into the shower to clean up. Neha and I were drenched in sweat, hair dishevelled, clothes lying in a heap. We somehow put on our clothes and I took her to my room to clean up.
We got into the shower together, washed and dried ourselves and we snuggled on my bed together. Neha took my hand, guided it to her pussy. Damn, she still wasn't satisfied! I finger fucked her and we had a quickie girl-on-girl session right there before we fell asleep. My ass and pussy were feeling quite sore and I was smiling as I recalled my first and most awesome group sexperience ever.
Thank you all very much for reading my story. I really appreciate your feedback. For more hot sex stories subscribe to our website. You can also submit your stories on our archives of sexy stories online.