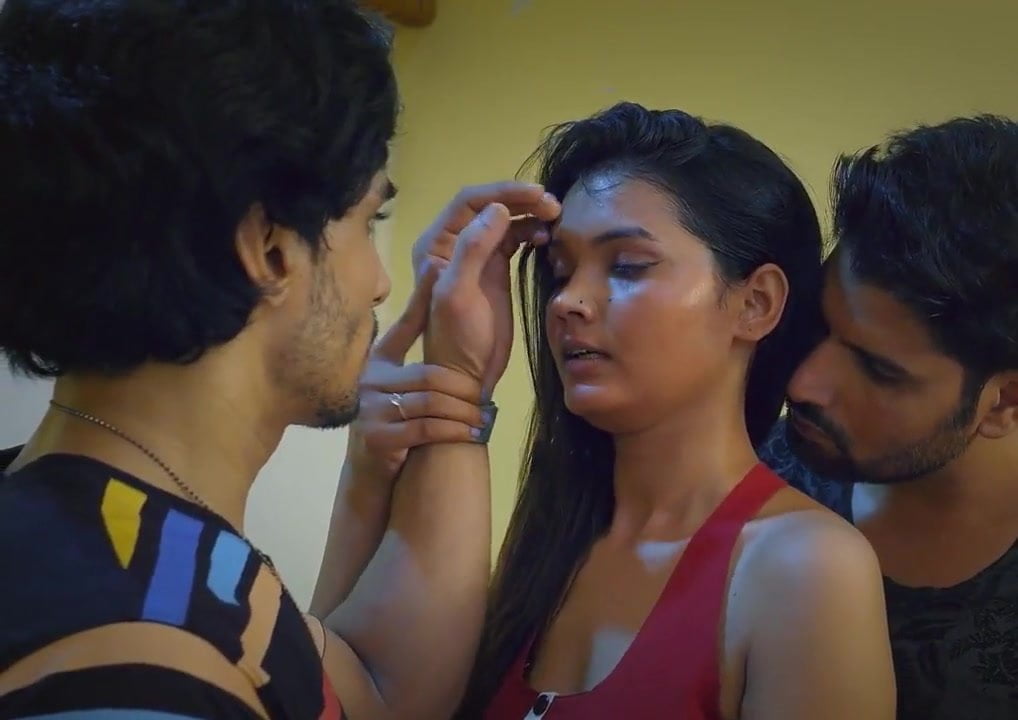 This is an incident which took place 2 yrs ago in my life. At that time, I had a girlfriend called Sunita. She was a tall, slim girl with firm and round breasts. We had sex on several occasions. She always admired my penis and said that sex with me was very satisfying for her. She had told me that she is sharing her sexual experiences with me to one of her cousins Madhu.

One day, as agreed I reached Sunita's place & rang the bell. A head popped in between a half-shut door, asking me the purpose of my visit. The voice was cold and her looks were average. I was in two minds as not knowing who she was. To gain an entry, I introduced myself adding that I was Sunita's friend. She opened the door and smiled warmly at me. So she was not all that cold as I suspected. She motioned me to make myself comfortable on the couch.
I looked at her, a fleshy woman in her late thirties with wide hips and a heavy bosom. She was wearing a tight, low-cut blouse that showed plenty of cleavage of big breasts a deep red chiffon silk sari that she wore low on hips. I managed to take my eyes off her with great difficulty.
Sunita introduced me to her cousin Madhu & asked her to get coffee. Once Madhu left I asked Sunita, "your cousin is present then why you called me.
She said that Madhu knows about our relationship & she wanted to meet me so she has called me.
As we were talking Madhu returned with three mugs of coffee & sat in sofa opposite us.
We chatted usual thing like Mumbai weather & family over coffee.
Sunita had asked me to get a blue film, which I had carried, but now it seemed That movie was for them & I was just a delivery boy today.
Sunita suddenly stoodup & moving towards VCD asked for the movie.
Sunita, your cousin is also present in the room. Do not forget that," I whispered to Sunita.
To my surprise Madhu spoke "I think Naveen is chickening out," overhearing my words.
"No I am not!!" I argued.
"Fine. So that means you are going to watch the movie, aren't you?," Sunita asked.
"Sure I am," I said fighting off my conscience.
So, Sunita put the VCD and the screen lit up in blue. I looked at Sunita who was sitting beside me on the sofa.
"You are not scared, are you?," Sunita asked.
"Of course not," I said, irritated at being treated like a baby.
Madhu moved & sat next to Sunita. On the screen, two women were pleasing their lover by making sexual advances towards him. The men seemed to be enjoying it a lot. Soon, the three of them began to have sex. As the porn scene was going on, I could see both Sunita and Madhu caressing their breasts and making low moaning voices. Even my penis was standing erect after seeing the movie. Then Sunita put her hand on my crotch and started rubbing her hand on my pants.
"You are so hot. " , she whispered in my ear and then licked m ear in a very erotic manner. I was also excited by her move and started moaning a bit myself. Sunita then looked at Madhu and smiled naughtily. Madhu got up from her current position and sat beside me. She then started moving her hands over my pants. My hands involuntarily moved towards their boobs and started feeling and pressing them. Then Sunita kissed me hard on the lips for a while. Just as Sunita pulled back, Madhu locked her lips on mine and her tongue started to feel the insides of my mouth. Then she and Sunita did a hot lesbian kiss for a long while. And all this time their hands were running down my pants.
Sunita unzipped my pants and pulled my fully erect cock out. Then they took turns at stroking my lund. Sunita pulled back my foreskin and kissed the head of my cock. She then started to suck my cock. Madhu removed her Blouse and asked me to remove her bra by using my teeth. I did so and behold! The beautiful breasts which were being held back by the bra sprung forward I tasted and kissed them for a long while.
Sunita moved away pulling my pant & underwears whit her.. Smiling she started taking her clothes off. Madhu lowered her head down and enveloping my prick. This lady had a real talent and the feel of her mouth engulfing my prick brought me fully awake with no other thought on my mind but to lay back and enjoy the sensations.
Her tongue danced over my prick, licking along the sides and then the tip running around under the crown to slowly take in the head and pull me in so it banged against the top of her throat. Her fingers were also busy gently stroking the sides of my prick or fondling my sensitive balls. She would lift my prick and run her tongue down the underside of the shaft to lick around each ball and the sensitive area behind. And when she started to massage my anus with the tip of her finger as she simultaneously sucked my prick into her mouth, I thought I would explode. She gripped my prick at its base to stop me cumming and then, when the tension subsided a little, she took me back up there again by pressing her finger into my back passage while pulling my prick taught, holding the crown gently between her teeth.
Several times she brought me to point of cumming only to slow down and wait until I retained some degree of self control. By the time Sunita taken off all her clothes & pounced on Madhu and kissed her hard on the lips. I watched them kissing each other as if there were no tomorrow. Sunita literally tore open Madhu's petticoat and sucked on her breasts. They were both moaning in ecstasy. Sunita started to play with Madhu's pubic hair as they kissed. They both lay on the floor as they got heated up in passion. Then Madhu slowly moved down on Sunita's body kissing and taking care of each part at a time. She then licked her choot and paid special attention to her clit. Sunita grabbed sofa and moaned loudly as she could not control her excitement. By then Sunita had orgasm and she shook violently in the process. Then Madhu sat up on the floor with her legs split wide apart and Sunita signaled me to lick it. I buried my face deep between Madhu's thighs and inhaled the musk of her sex. I then brought her lit out of its hiding place and licked it. Then I put my tongue in between her pussy lips and started caressing it with my tongue. Sunita sucked on Madhu's boobs and kissed her as she purred like a sex kitten.
Not able to control herself any longer, Madhu begged, "Please fuck me Naveen. I can't take it any longer. Slam your rod into my pussy and tear me apart. "
Feeling aroused by her words, I placed my cock at the entrance of her pussy and pushed it in inch by inch. She screamed in pleasure.
"Fuck me harder and deeper, Naveen. Harder!!" said Madhu and I started to ram my penis into her pussy. She also started to lift herself up a bit and move forward and backward to meet my thrusts.
"Oh yeeeeaaaahhhh! Fuck me good, Naveen. Sunita's eyes were gleaming on seeing me fuck her cousin to death. Finally she said "Fuck me too, Naveen. Give me what you are giving her.." So I pulled my lund out of Madhu's choot and entered into Sunita's choot with full rage. She also squealed with excitement and Madhu finger fucked her pussy while watching us. I bought Sunita to an orgasm and then turned my attention back to Madhu. After having brought her to an orgasm all this fuck session had also brought me close to cumming.
"I… am… going to… cum… aaaaaaaaahhhhhhhhhh!!" I said as I stroked hard & fast In & out of Madhu's choot. I pulled out after jetting my stream in Madhu's choot. Then they licked my lund clean and started licking my cum off each other's body. Soon, after kissing each other for a while, we all decided to have lunch.
Sunita moved to kitchen to prepare lunch.
I kissed Madhu hard on the mouth and she returned the kiss passionately. "Oh shit," she said. "This is so fantastic. "
We spent some time time holding each other tightly. I explored Madhu entire body with my hands and mouth and she did the same with me. We just kept kissing and kissing, unable to stop. I wanted to explore Madhu's ass with my hands and I wanted to take my time doing so. I alternated between rubbing and squeezing her ass cheeks. I then lightly ran my fingertips over her entire bottom, including the crack between her cheeks. I reached down with one hand and inserted two fingers into her pussy. I took the middle finger of my other hand and worked it into her ass. Madhu was moaning and groaning, responding to my every touch. She reached down and began playing with my balls and dick. The more she played with my dick, the harder it got.
With both of us covered in sweat and moaning loudly with pleasure, Madhu shuddered and climaxed again. I started playing with her ass again and Madhu said, "You love my ass don't you?" I replied, "I love every inch of your body but, yes, you have an absolutely spectacular ass. I could go without food if I could just eat your ass all the time. "
Madhu laughed again. "Well, if you love my ass so much, when are you going to put your dick in it? You know we can't leave here until you put your dick up my ass. "
It was so exciting to hear those words.
"Madhu, there's no time like the present," I said. "Let's do it. "
Madhu positioned herself to receive my dick in her ass. I kissed, licked and sucked every inch of her ass before entering her from behind. What a sight and what a feeling that was. My dick had completely disappeared into Madhu's ass and her massive, gigantic ass was wedged firmly against my pelvis.
I fucked her ass slowly, trying to savor the moment as long as I could. Soon I exploded with intense orgasm.
Madhu and I stayed cradled together in bed for 10/15 minutes, touching, kissing and fondling each other. As Madhu left room to kint Sunita in kitchen she kissed me, put her hand on the side of my face, and said, "I'm so glad that you fuck my ass. I wanted it so desperately but I would never have had the nerve to make it happen. Thank you, thank you. "
"No, thank you Madhu," I replied.
"You are the greatest friend and lover that any man could hope to have.
After lunch we had good time once again before Madhu left back for Mumbai we had a two more sessions.
Thank you all very much for reading my story. I really appreciate your feedback. For more hot sex stories subscribe to our website. You can also submit your stories on our archives of sexy stories online.